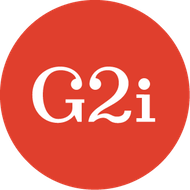 G2i Inc
Hiring Team Member
Software
JOB FUNCTION

Hiring Team Member
COMPANY

G2i Inc
INDUSTRY

Software
LOCATION

Headquarters:Delray Beach, FL,USA
JOB DESCRIPTION
What is G2i?
G2i is a hiring platform for engineers by engineers. Our vision is for the hiring process to be simple, trustworthy and enjoyable for both companies and engineers. Our mission is to create a vetting process where:
Engineers will vet other engineers
Engineer vetting will be as close to on the job requirements as possible
The vetting process will be objective, repeatable and quantitatively scored
The process will be transparent. We will provide the engineer's code, our code review and technical interview notes in full to our clients.
G2i is short for "Good News to the Internet." We are convinced that our primary vision & mission are good news to companies that need to hire engineers. While we are going about fulfilling that primary vision & mission, we will also be good news to those in need. We are on mission to help hundreds of street kids in Nairobi, Kenya obtain education, a safe home, parental care, and the love they need. We are also committed to supporting the open source community by finding ways to financially support those who build the OSS we rely on.
What We're building
In order to fulfill our mission & vision we are building a two way marketplace platform. This platform will allow companies to find pre-vetted engineers that can augment their teams on demand. We're investing in features such as a quantitative manual review code process, individualized company match scores and machine learning to automate more of these processes.
Who we want to hire (Qualifications)
In simple terms we want to hire someone that understands engineers and will enjoy sourcing and interviewing them most of the day and interacting with clients to meet their needs the rest. Here's what that actually means to us:
You are either semi-technical and want to grow in your frontend skills with React or you're an ex-developer that enjoys the people side of the business.
You are comfortable with outbound and inbound communication
You will complete non-trivial hiring and fulfillment requirements , on time, with very little or no help from other members of the team.
You can work independently and figure out how to solve problems in front of you.
You will assist other members on the team when they get stuck working on non-trivial hiring and fulfillment requirements.
You are omni-competent and can contribute while crossing contexts.
You will practice a habit of over communicating in public and will hold the team accountable to doing the same.
You will have a sense of ownership over the engineer hiring and fulfillment process. The buck will stop with you.
You will have a sense of urgency to your work meaning that the completion of a task is important to you.
You will measure your success by how much value is being delivered to clients and engineers and by how much you are growing.
You thrive in a context heavy on interpersonal interaction especially over Zoom
The highlight of your day will be getting a company the engineers they need to build their product. You're happy when the client is happy.
Who you will work with
Lee Johnson is the CTO of G2i. He has been an engineer for 20+ years, has worked across numerous tech stacks and has survived countless engineering fads. He was an early adopter of React and React Native and helped to start React Native Radio with Nader Dabit. Lee currently leads Platform development, but his goal is to focus more on G2i's vetting process.
Stephen Mitchell works in Growth. Stephen's background is in sales and marketing, but he's the type of person who will accomplish anything you throw at him. He works on our inbound/outbound sales strategies and is relentless about finding product market fit. He's also experienced in the G2i engineer hiring process and can do full cycle sales with our clients.
Chris Severns is the Hiring Team Lead and the person that wrote this job description. He focuses on engineer hiring, the technical vetting process and client fulfillment. He is an engineer that started working in Rails and picked up React, React Native, Node and GraphQL while working at G2i. He is relentlessly focused on providing quality engineers to G2i's clients and will do whatever it takes to fulfill that mission. He likes to contribute to G2i's internal tools when he has the time to get into the code.
Gabe Greenberg is the founder of G2i. His main focus is on sales, strategy and leading the company. Before G2i Gabe planned on being a church planter and pastor. God took him in a different direction after a missions trip to Kenya where he met the street boys we now support. The foundation Gabe was working with needed a website built and everything grew from there.
The rest of the pitch
We are a 100% remote first company and you have the option of working remotely or moving to South Florida (near the beach)
We work in React, Node & GraphQL and are looking forward to ReasonML. We like to stay on the bleeding edge when possible
We're a startup so there's lots of room for new ideas and growth
You will get to learn about and improve every part of our hiring process
You will meet and work directly with our client's hiring managers and CTOs large and small (from $1 billion to $1 million in valuation)
We have a game night every 3 weeks which is a ton of fun!
21 Days of PTO
Blue Cross Blue Shield Health Care (Gold Plan)
The Anti-Pitch
We are not a good fit for you if:
You are looking for a giant slow moving company. We're constantly experimenting, iterating and changing things.
You are looking to specialize in some particular problem set. This role requires working in different contexts and problem sets. We need people that can adapt to the challenges thrown at them.
You don't want to take on any work outside of your job description/comfort zone. We're a small company and sometimes we need all hands on deck for certain problems.
Diversity
G2i is an equal opportunity employer. We're dedicated to building a team where diversity in both ideas and identities is not only welcomed, but encouraged. We do not discriminate on the basis of race, color, religion, sex, sexual orientation, gender identity or expression, age, disability, marital status, citizenship, national origin, genetic information, or any other characteristic protected by law.
If you are a minority that is considering applying, but you have any reservations about doing so, please email me (
chris@g2i.co
) and let me know how we can be more welcoming to you.
Similar Jobs
You may also be interested in these jobs below