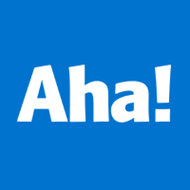 JOB FUNCTION

Sr. Writer
COMPANY

Aha!
INDUSTRY

Software
LOCATION

Headquarters:USA,USA
JOB DESCRIPTION
Do you love writing about how people lead teams, innovate, create winning products, and launch breakthrough marketing campaigns? Does double-spacing make your eye twitch? Are your editorial standards relentlessly high? We are looking for a self-starter who loves researching and writing about complex topics. Someone who can bring both big-idea pitches and eagle-eyed attention to detail. If this is you, we want to hear from you!
As a Senior Writer at Aha!, you will have an excellent opportunity to join a breakthrough and profitable company that is growing fast. Aha! was founded by a proven team of product and marketing experts. More than 250,000 users worldwide trust Aha! to set brilliant strategy, capture customer ideas, create visual roadmaps, and manage breakthrough marketing programs.
We are looking for someone who:
Has at least 7 years of experience writing about business, software development, innovation, and/or leadership topics (or equivalent experience)

Is passionate about technology
Writes exceptionally clean copy (and has the clips to prove it)
Enjoys supporting other writers, providing clear creative feedback
Thrives in a deadline-driven environment
Is bold, likes to interact with customers, and takes on increasing levels of responsibility
We are committed to being great, and we want someone who:
Can work at a fast-paced company where the feedback cycle is measured in hours rather than weeks
Has a "can do" attitude and a background of delivering superb work again and again
Is seeking a career-defining opportunity and a proven, results-oriented team which has sold multiple software companies
We are building a distributed team, and you can work from anywhere in the United States for this role. We offer generous salary, equity, benefits, and a profit-sharing program.
Apply for this Position
If you can see yourself in this remote role and feel you can add to the ongoing success of In Marketing We Trust, then apply via https://www.aha.io/company/careers
Similar Jobs
You may also be interested in these jobs below